TYPES OF WEAVING
FLAT WOVEN
KILIM (kilem) are flat woven rugs you're probably most familiar with. They have a flat weave that builds up color in regular blocks.
CICIM are also flat woven rugs. They are traditionally made with goat hair and have different motifs or symbols scattered across them. The cicim motifs are not related and can be whatever the weaver wanted at the moment.
ZILI are flat woven rugs that have a very distinctive patterned weave. You can tell a Zili by the flatness and by the vertical lines like cords.
SUMAK is our favorite and we specialize in these at Pasha Rugs. The sumak (soumak) is an ancient style an entirely different kind of weave.
TULU are the most surprising Turkish rugs. They are made mostly of angora and are used as sleeping mats. They often feel almost silky. Even though Tulu is one of the most ancient rug styles they can be very modern looking and are often mistaken for contemporary rugs. They are very durable and are handed down from generation to generation so can be somewhat rare.
CAUCASIAN rugs are the most exciting. They come in many different styles but it is their color that is most remarkable. They can be flower, or animal motifs, or geometrics. almost any design type can be found in a Caucasian rug and almost any color range. We have hundreds in stock so we can suite almost any decor.
OUSHAK (USHAK, USAK) rugs are from the West Central Anatolia region of Turkey. Traditionally Ushaks were made for the mosques and were the first prayer rugs. Many great carpets are attributed to this area.
Other Pile Rugs include
Tebriz, Tribal, Heriz, Peshawar, Kazak, Turkoman
.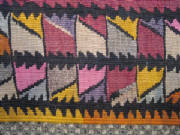 Turkish Kilim-Flatweave
Turkish Cicim-Flatweave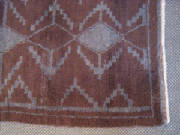 Turkish Tulu--Pile Weave
Pasha Rugs 15 Bridge Street, Lambertville, NJ 08530 609.397.5434
handmade rugs, turkish rugs, oriental rugs, kilim, persian rugs, antique rugs, wool rugs, area rugs
handmade rugs, turkish rugs, oriental rugs, kilim, persian rugs, antique rugs, wool rugs, area rugs
handmade rugs, turkish rugs, oriental rugs, kilim, persian rugs, antique rugs, wool rugs, area rugs

HANDMADE RUGS TURKISH RUGS ORIENTAL RUGS Kilim Persian Rugs Antique Rugs